Days of Empires Glory
How to Create a Character
NEW
CHARACTER
CREATION
1. GENERATE ABILITY SCORES
Roll four six sided dice
Discard the lowest score for each attribute
Record the final scores on a piece of paper
2. SELECT YOUR SPECIES OR DROID (SEE "Wookiepedia ":http://wookiepedia.org for a comprehensive listing of available species)Record your species modifiers on a piece of paper
3. CHOOSE YOUR CLASS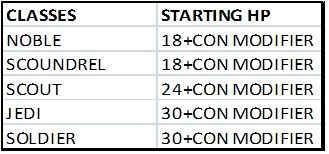 4. ASSIGN YOUR ABILITY SCORES. ADD SPECIES MODIFIERS IF ANY.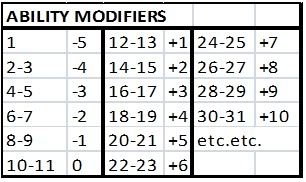 5. DETERMINE HIT POINTS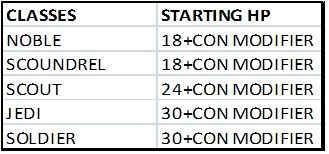 6. DETERMINE DEFENSES
Reflex Defense = 10+heroic level or armor bonus+ DEX modifier+ class bonus+ natural armor bonus+ size modifier (Are you wearing armor? If so substitute your armor bonus for heroic level when calculating Reflex Defense)
Fortitude Defense= 10+heroic level+ CON modifier+ Class bonus+ equipment bonus
Will Defense= 10+heroic level+ WIS modifier+ class bonus
7. DAMAGE THRESHOLD
Small or medium characters damage thresholds are equal to their Fortitude Defense
8. BASE ATTACK BONUS
Choose from your class below:
9. MELEE ATTACK BONUS
Add your strength modifier to your base attack bonus (Write the formula in the margins).
10. RANGED ATTACK BONUS
Add your dexterity modifier to your base attack bonus (Write the formula in the margins).
11. SPEED
See your species description in the appropriate book (more than likely 6).
12. FORCE POINTS
You begin play with 5 force points.
13. DESTINY POINT
If GM allows you get 1 Destiny Point.
14. SELECT SKILLS
Look at your class skills list (under each classes corresponding table). These are the skills that you can be trained in. Pick as many skills as the given formula allows. For each trained skill you get a +5 modifier.
15. CHOOSE TALENTS
Each PC starts with one Talent unless otherwise noted (listed with each corresponding class).
16. CHOOSE FEATS
Each PC begins with a one feat that may be chosen from the feats section of each book. Humans get an additional bonus feat (so humans get 2 instead of one to choose). These feats are in addition to the "Starting Feats" provided for each class. Write any special ones (that are used by the PC at random times) in the bottom margins of the sheet with any explanations.
Bonus feats must be chosen from these lists. All other feats can be chosen from the total list:
17. ROLL FOR CREDITS
See the class section (Main Rulebook)
18. CHOOSE EQUIPMENT
GM may have restrictions on what can be bought. Can also say what MUST be bought.
19. CALCULATE FOR ARMOR BONUSES AND PENALTIES
20. MAKE A DESCRIPTION AND BACKSTORY FOR YOUR CHARACTER
Ask these questions when making a backstory:
Character name?
Street Name, Nickname or Alias?
Who are their parents? Are they alive or dead?
Do they have any siblings (alive or dead)?
Where does the PC's family currently reside?
Where was the PC born?
Where does the PC live? What is their place like?
PC's quirks and habits?
PC's short term goals? Long term?
Any identifiable marks (such as tattoos)?
Any disabilities (Like a blind Jedi/a cybernetic leg)?
Are they beautiful? Are they ugly? Are they smart? Are they dumb?
Does anyone hate them? Or want them dead?
Does the character hate anyone? Why?
21. DRAW YOUR CHARACTER (OR HAVE SOMEONE ELSE DRAW IT)